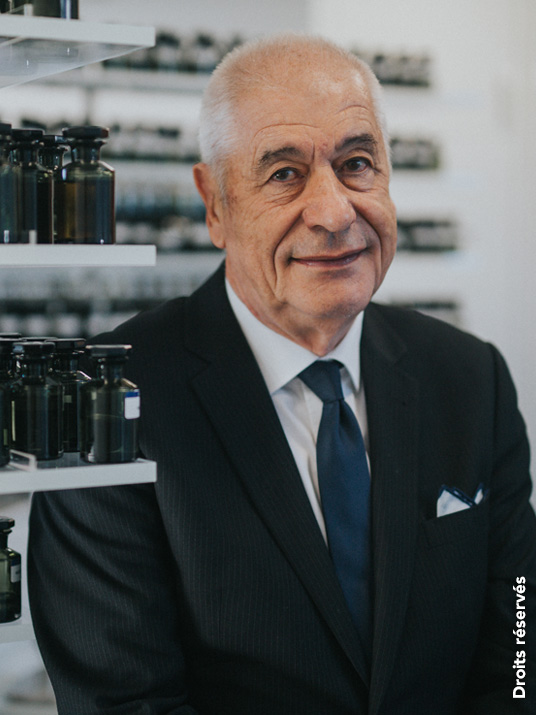 He was born in 1944 to a family who had nothing to do with perfume. At the age of 14, while working in Grasse for the summer, his passion was revealed. Emotions took hold of him: as he discovered the aroma of jasmine blending into the muggy morning air, his path became clear. At age 17 he took the job of lab technician at Lautier, where he learned about raw materials, which he referred to as his "friends" and which later became "allies" for his compositions. In 1966 he discovered l'Eau Sauvage which came as a true shock to the senses and inspired him to begin creating fragrances. After being hired by Dragoco, he left the French Riviera for Germany, then Paris where he learned the art of formulation. In 1974, he was awarded the Young Perfumer prize by the Société Technique des Parfumeurs. He began working for Naarden where he created Azzaro pour Homme in 1978, a male fragrance which remains a classic today. He then spent over 20 years at Firmenich where he created multiple hit scents including XS pour Homme by Paco Rabanne (1993) and built a strong professional relationship with Jean-Paul Guerlain. Generous and passionate about sharing his expertise, he is currently a part of the creative team at the Jean Niel company.
Extracted from the interview of 1:29:25 mn, filmed on the 12th September 2019 in Opio.
Writer and Interview director: David Richard
Production: Fonds de Dotation Per Fumum
Executive Production: EDEN
To view the full interview, please send us your motivated request via the contact / general information form.