David Richard, author and director of the filmed interviews of the personalities surrounding the Great History of Perfumery, tells us about Heritage(s).
"It's wonderful to get people we've never heard before talking and to listen to them. »
This is how David Richard, who has spent hours listening and recording the often unknown voices of the illustrious and anonymous creators of some of the world's most famous perfumes, expresses himself when asked about his motivations.
David Richard: "When we take an interest in this very interesting and ultimately little-known history of perfume, we penetrate into a world that we probably never imagined. It's wonderful to get people we've never heard before talking, such as evaluators who are a very important profession in Perfumery. Moreover, I invite you to discover the testimony of Elisabeth Mathieu-Madeleine. It's a chance that one of the first evaluators tells us how things happened. And to hear her talk about perfumers because she knew them is even better! »
What interests you in the process of leaving traces in the history of Perfumery, a subject that seems so evanescent, even ephemeral?
David Richard : What interests me is precisely that thanks to these interviews, some of the personalities interviewed, unknown and yet important, leave much more than traces in this history of perfumery. The feeling that our work is and will remain useful stimulates me greatly. It is a privilege to gather these testimonials.
I am aware of the originality of the project, which I obviously find fascinating. Doing it with and thanks to Francis is fantastic.
What is interesting beyond the testimony, and perfumers are often happy about it, is also to succeed in re-establishing truths, correcting errors, "demystifying" in the good sense of the word this world of perfumery. Often reality is much better than fiction! We try to get things said as it was and as it is.
In your career, what led you to become interested in perfume?
David Richard: Nothing original, I am like many people. I have always been very sensitive to smells and perfumes, I have very precise and very distant olfactory memories. For example, I am always overwhelmed by the smell of a hedge of privet flowers, a memory of my parents' garden, or the smell of the Christmas tree… to give just two examples. And many fragrances have left their mark on my olfactory memory: those of my grandmother, my parents, it almost constantly occupies my mind.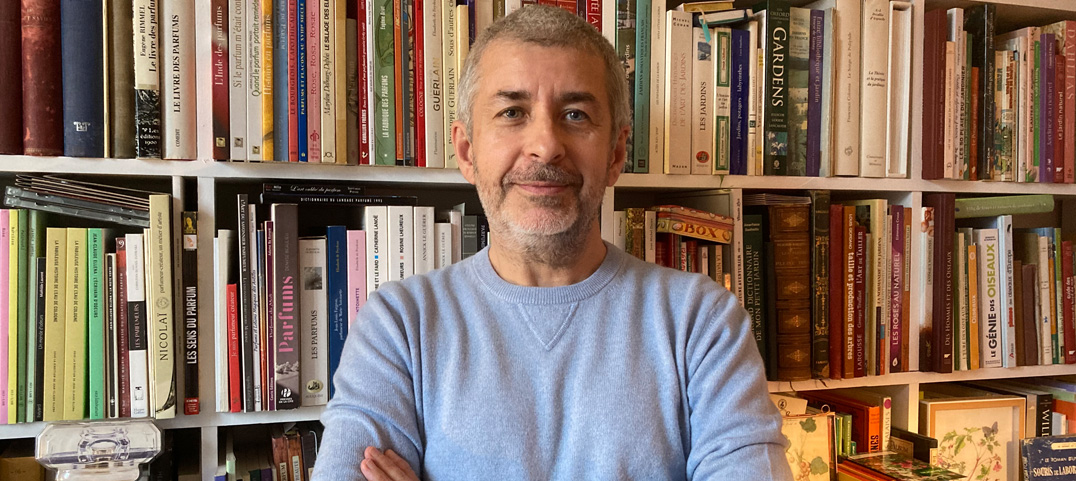 Who is David Richard:
He held editorial positions at TV5MONDE for 14 years before joining the Office of the Minister of Culture and Communication in 2009.
In 2012, he staged the major event "Le Ministère est au Parfum."
After the ministry, with Frédéric Mitterrand, he directed the film "Christian Dior, la France" then wrote and directed "La fabuleuse histoire de l'Eau de Cologne" where he met Francis Kurkdjian. Together, in 2016, they shape the "Heritage(s)" project which today joined the "Per Fumum" Endowment Fund.
David RICHARD
My olfactory memory is surely the one that works best, I link almost every life event to a smell or a perfume. I even have an obsession, a problem that I would never solve: in my head I have a smell, it's quite confusing, in my grandmother's house. I know that if I smell it tomorrow, I would recognize it, but I am unable to identify it.
What are your must-haves when it comes to perfume (books, films, documentaries, etc…)?
David Richard : I think that if I made a documentary on perfume, it's because I didn't like the ones I had seen on the subject.
On the other hand, a lot of books made me want to know more… a book I really love is "Le Sillage des Élégantes" by Marylène Delbourg-Delphis, which really focuses on the birth of contemporary perfumery. And to quote a last one: "Le propre et le sale" by Georges Vigarello. It's not strictly speaking about perfumery but it makes us understand a lot about hygiene and so we quickly get to Perfumery.
If my perfume references are mostly French, there is also Italy… Italy is a big part of my taste for perfumes and the discovery of their stories. There were two exhibitions that were very stimulating for me. The first at the Palais de la Découverte some twenty years ago, and the second at the Parc de Saint-Cloud where, with the Maison Guerlain, a fragrant ephemeral garden had been created.
You have already filmed about thirty interviews, but in order for the project to have a solid base of representative people, how many more do you think are needed?
David Richard: A lot! But honestly, I don't know how much. Francis and I often update our list. As time goes by, new names come to mind, the list keeps growing. While we naturally focused on "star" perfumers at the beginning, it soon became clear to us that it was important to have less well-known but equally prominent and obvious personalities whose role was preponderant in the growth and development of perfumery.