From the observation of the evolution of olfactory disorders to neurocognitive disorders.
On November 15, the PerFumum endowment fund was honored to participate in a visit to the Louis Pasteur Museum located on the Institut Pasteur campus in Paris. The researchers supported by the endowment fund, gathered for the occasion, took the opportunity to give us an update on their progress.
The loss of the sense of smell is very disabling in everyday life, and is often associated with neurocognitive or mood disorders. Several studies have also suggested a link between olfactory disorders and neurodegenerative diseases, in particular Parkinson's disease. It is therefore particularly important to explore these disorders.
Upper respiratory tract infections are the most common cause of loss of olfaction. While in most cases olfactory recovery is a matter of a few days, a minority of cases have persistent olfactory impairment. In general, it takes 1 to 3 years for anosmic patients to recover a normal sense of smell, and some never recover olfaction. However, the earlier anosmia is diagnosed, the more likely it is that treatment will lead to a rapid improvement or even recovery. Therefore, the observation of the evolution of persistent olfactory disorders in patients following Covid-19 infection is important to better support them.
Our team of researchers from the Pasteur Institute and clinicians from the Lariboisière Hospital (AP-HP) has taken a further step in understanding the mechanism of persistent anosmia related to Covid-19.
Indeed, after the discovery of the association between the long-lasting loss of olfactory function and the presence of a recurrent viral infection in the olfactory epithelium in Covid-19 patients, the study supported by the Per Fumum Endowment Fund, now goes further by working also on the relationship between olfaction and cognition.
In the context of persistent olfactory disorders after Covid-19 infection, 3 questions arise:
What are the causes of these disorders?
How do they evolve over time?
Are they associated with cognitive disorders?
To answer these questions, researchers from the Institut Pasteur will conduct the ETOC study in collaboration with the ENT functional exploration service of the Lariboisière hospital. Together, they propose to record the brain activity following the perception of an olfactory stimulation in patients suffering from Covid-long followed in the service. These recordings will be made using an olfactometer associated with an electroencephalogram (cf photo opposite).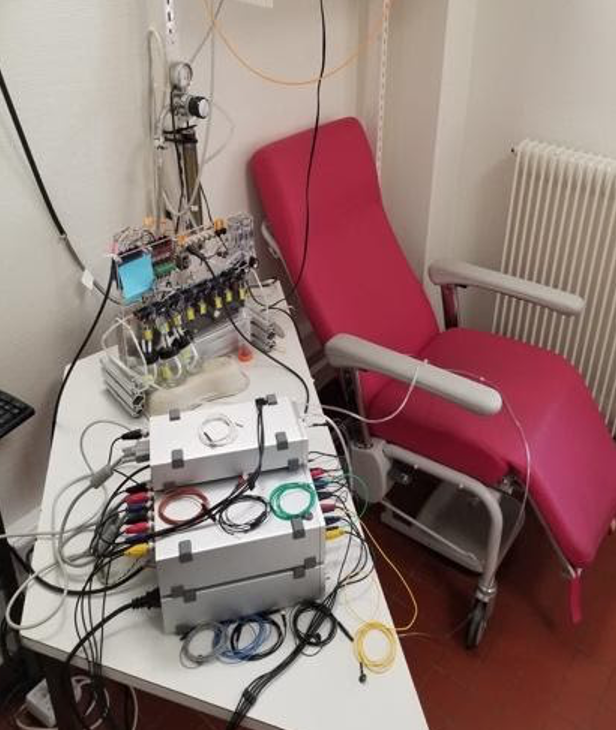 The ETOC study has just received the favorable opinion of the Committee of Protection of the Persons South-Mediterranean II. This project will therefore be able to start next January.
This innovative approach is also at the heart of the development of a future project involving the research team of the Pasteur Institute and supported by Per Fumum in collaboration with Parisian hospitals. This project seeks to explore the relationship between altered consciousness and olfactory perception.
For more information:
Research Team : https://research.pasteur.fr/en/team/perception-and-memory/
ETOC Study : https://research.pasteur.fr/en/project/socset-studying-olfactory-and-cognitive-symptoms-evolution-in-long-covid-patients/
Scientific article: Neurological Manifestations Associated with SARS-CoV-2 Invasion of the Autonomous Nervous System : https://doi.org/10.33696/immunology.3.107