Exclusive to the Perfumum Endowment Fund: The Heritage(s) Project
Like a "time capsule" for future generations created to enrich the body of knowledge on the history of perfumery, Heritage aims to establish an intangible, human and living memory of those who created fragrances, or contributed to their existence or development.
David Richard, author and director of the filmed interviews of the personalities surrounding the Great History of Perfumery, tells us about Heritage(s).
"The idea of the Heritage(s) project was born out of a conversation with Francis Kurkdjian during which we realised that some personalities from the world of Perfumery had just disappeared, such as Josephine Catapano or Maurice Maurin, and that nobody had taken their words before they disappeared. That's how we both came to the conclusion that there was a lack and that it would be really wonderful to try to collect the words of all those who are still alive so that they could tell us about their life in the service of Perfumery !
There are always difficulties when you carry out such a project because it's not a short interview: I ask them to talk about themselves, about their profession and to do a big retrospective, to talk for as long as they can, accept it and wish it.
Most of them had never given an interview ; but they were all reassured by the historical and scientific objective of the project.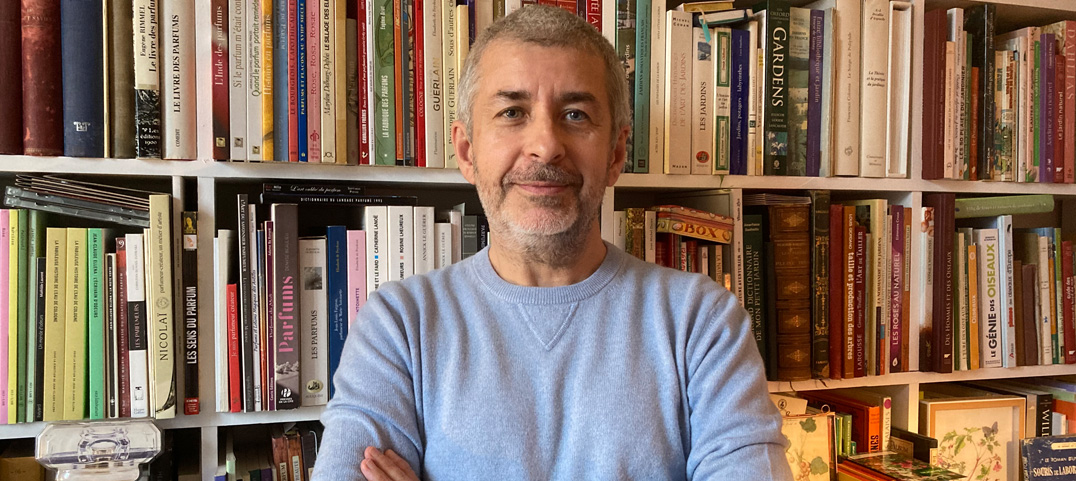 Who is David Richard:
He held editorial positions at TV5MONDE for 14 years before joining the Office of the Minister of Culture and Communication in 2009.
In 2012, he staged the major event "Le Ministère est au Parfum."
After the ministry, with Frédéric Mitterrand, he directed the film "Christian Dior, la France" then wrote and directed "La fabuleuse histoire de l'Eau de Cologne" where he met Francis Kurkdjian. Together, in 2016, they shape the "Heritage(s)" project which today joined the "Per Fumum" Endowment Fund.
David RICHARD
I am aware of the originality of the project, which I obviously find fascinating. Doing it with Francis is fantastic, I am lucky, I am sure of it.
What amuses me, why we do this with Francis and why our perfumers are delighted to participate and answer us, is because we " demystify " in the good sense of the word. We tell things as they were and as they are."