Nicole Benitta, Noël Guihot, Pierre Dinand: When perfumery represents a turning point.
While it was not a career choice, it was nevertheless a turning point in their professional life or even in their lives.
For Nicole Benitta – the perfumer's assistant Edouard Fletcher, for Noël Guihot – the application specialist and for Pierre Dinand – "the man with the 1000 bottles", it's the same story: it started by chance and became a devotion.
She was preparing to become an assistant in a laboratory of medical analysis; and she was hired to do the dishes at the Establishments of Treviso , Nicole Benitta and Noël Guihot each began on the spot almost on a misunderstanding. Guests on a phone call, that of a friend or a relative, to join Paris and this small perfumery industry that has become so great with time. Nicole Benitta replaces a friend during a job interview at Roure, Noël Guihot leaves her Brittany for the capital.
Their assiduity to a rigorous work to pay, little by little, they each climb the ranks evolving according to the growths of their groups.
Nicole Benitta stands out as an assistant perfumer and works with big names such as Edouard Fletcher.
Noël Guihot went from plongiste to apprentice preparer, preparer and perfumer. A pioneer of aerosol, he has worked on cleaning and beauty products, and as he says, "on anything that doesn't smell good". Of an unpleasant smell, like that of the sewers among other examples, he has the task of masking or transforming the smell so that it becomes pleasant.
As for Pierre Dinand, his destiny was different but just as upset since his meeting with the perfumery.He began as an architect, trained at the National School of Fine Arts, and worked for years to design and shape the most iconic bottles as a bottle designer following an opportunity.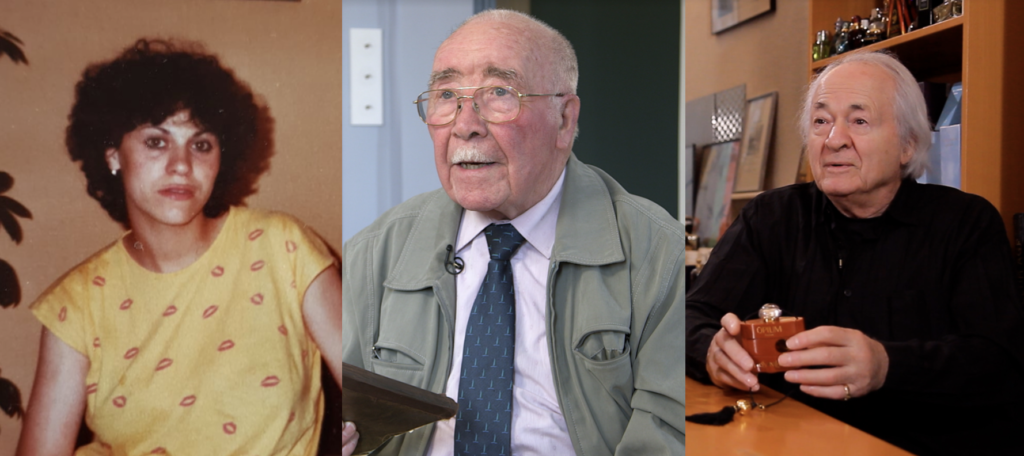 By his own admission, Pierre Dinand, nicknamed "The man with the 1000 vials", draws his bottles and bottles like real houses whose tenant is the juice.
Find exclusive excerpts from the testimonies of the great figures of perfumery on our website and on our Instagram @fondsperfumum. If you want to support the constitution of this important intangible heritage for the heritage and future of Perfumery, make a donation to the Per Fumum Endowment Fund. Find all the answers to your questions on www.fondsperfumum.org or contact us on jesuisdonateur@fondsperfumum.org.